Says who marriage is a one time life thing? Things will somehow change along the way and like I always believe, there is someone up there that ties up red knots to couples that they counted as to be the perfect match, the another half.
The little man up there must have tied loosely Aunty Soo Ling life partner and now he has tighten the knot with the man of her life, Uncle Michael.
Yes, Aunty Soo Ling is non other than Samuel's mother and a bride on that day. I feel happy and blissful for Aunty Soo Ling and secretly I wished that my Mum would find her destined better half someday too.
I was invited for the wedding and a few of ours friends as well, namely, Chung, Charlie, Celestine, Joshua and his girlfriend, Esther. All six of us were sitting at a shared table with Samuel's cousin brother who is truly a joker and his wife, and another 2 church member ... Which are also jokers, Now I know why is Samuel such a joker! Cause he grew up in that environment wtf LOL!!
See!! See!! My Bie looking and me and he must have miss me a lot(hahahaha wtf)because we weren't at the same table. I am not family YET (shiok sendiri)~
But we had our OWN fun at our table, thanks to Samuel's cousin brother whose name I forgot but I remember his obsession for the "LIKE" button on Facebook! xD
Joshua and Esther who gets to sit together (boo) when I can only stare at my own Bie from afar wtf *darks*
But I still had fun with the rest!!
(from left) Charlie who looked cute from that angle, Celestine who made everyone "Woahh!", Victoria a.k.a me who always thinks that shes cute*darks* and Chung(!!)who sews his own pants! =)
I was just joking that I only stare at Samuel from across the table the whole night, he actually came to our table every time he finishes one dish and I happy happy la~ =p
Then the cousin brother asked whether am I his girlfriend, when we are already holding each other's hands LOL!
My dumb poser face while Samuel is discussing about the cute chocolate as a gift for the guest.
A tie up between two people, Ireland and Malaysia.
Told you that we got entertainers on our table, Lol~
All this are not posted according to order, and below are their family pictures and a group picture of Audrey's and Samuel's friends with the newly wed.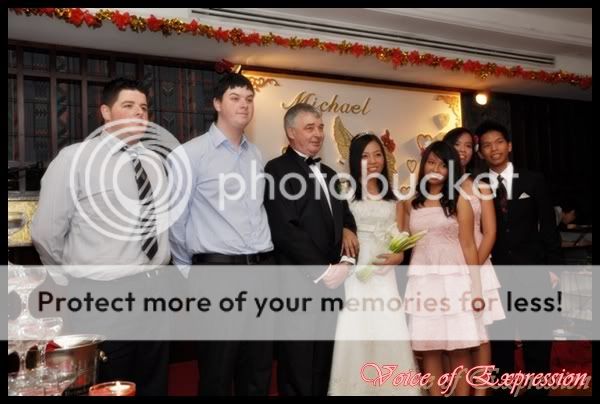 I was awe when I see the couple poured wine into the stacked glasses and non of them dripped out and I was questioning the hospitality students whether has this got to do with the way they stack the cups or is it just by coincident that the couple poured nicely ... Yea, I jakun *darks*
I AM still in awe. I just don't believe that stacking something nicely and it will not flow out!
I got no credits for my Physics, that explains why. xD *darks*
The dinner was awesome, and this is my first time being at a Christian ala Chinese wedding and this is my first time experiencing a Procession...
I will see you again in a year's time Aunty Soo Ling and Uncle Michael =) I can't afford to go Ireland, so I will just have to wait for you all to come back to visit Malaysia. God bless both of you and your family =)
I will take care of Samuel, no worries~ *muahahaha~*